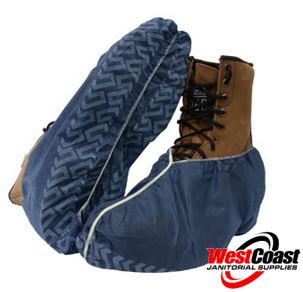 Disposable Shoe Covers Polypropylene Navy Blue 100 Pieces
PROTECT YOUR HOME: Step-It-Up will make sure your home and shoes are protected. Our shoe covers keep your beautiful hardwood floors and carpets clean and free of dirt, germs and bacteria. Keep a pair of shoe covers on hand for repair men, plumbers and electricians! This is a-must-have-item for all homeowners who take pride in maintaining the beauty of their homes.

SAFE ON ALL TYPES OF FLOORS: Our specialized non-woven material won't scratch your hardwood floors. Step-It-Up shoe covers keep your house looking like new. Each pair of disposable shoe covers is lined with special anti-skid, non-slip treading that helps to prevent slipping and sliding on all floor types.

DURABLE MATERIAL: Step-It-Up shoe covers are made of durable, heavy woven material that ensures your peace of mind. Not only will your shoe covers NOT rip, but they will also maintain the impenetrable resilience required to effectively perform a full-day's worth of hard work with unparalleled success.

STEP UP YOUR CUSTOMER EXPERIENCE: Your customers will be impressed by how much you care about their homes. Show them that you care about their homes and you will earn a customer for life!

EASY-ON EASY-OFF: Step-It-Up Shoe Covers have a snug elastic top which provides for a great fit for all shoe sizes. One size fits all! The convenience of our shoe covers is indisputable! With 20% more per package, Step-It-Up shoe covers are the best value out there.